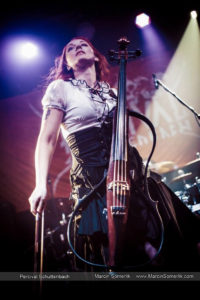 Anima Mundi is an unusual album. It is dedicated to great artist Amelia – the photographer, which pictures we have used on most of Hoarfrost's covers. Her death was a big shock for us and it stopped the works on this material for a some time. This album could probably never arise without the group of amazing artists, which we invited to the participation in it. Some of them working on the dark ambient industrial or noise music for the first time, so they brought something new for our music.
From this moment we will present You, part by part, the figures of our guests. For the beginning Katarzyna Bromirska of which cello is one of the leading motives of this album:
Katarzyna Bromirska – is going about music from her childhood; she is a graduate of Music School I and II degree in Legnica; from many years she is a cellist, a composer and a vocalist of groups Percival Schuttenbach and Percival, the best known from participation in the soundtrack to the video game "The Witcher 3"; she occasionally takes part in other music projects; she had an occassion to record as a musician of the symphonic orchestra and as a sessional musician in rock and metal groups, she also was a cellist in the theatre in Legnica.