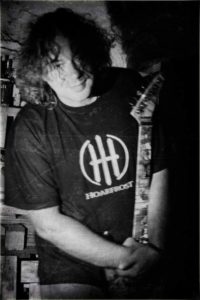 Earth – manifesto of the life. Mythical Gaia, the mother of all its forms, which existing from ages and are interrelated in one superorganism of our planet. But if caring mother is only our illusion? And we, human race, are helpless children, watching with trust in murderer eyes? We raise this question on Anima Mundi. What will be the answer?
None of us can foresee. Dark ambient industrial is a hermetic genere. We looking for the way to enrich its sound. Now is the time to portray our next guest – Valdi Rzeszut of which disturbing guitar You can hear in tracks: Refracted in Illusion and In Hopeless Mazes.
Valdi Rzeszut – the Polish guitarist, composer, producer, sessional musician. His musical output is a 40 albums, recorded with the Polish rockmans Wojciech Waglewski and Marek Piekarczyk among others. From years in the music group Ratatam. Before he was releated to the music background of Tarnów (Dzika Kiszka, Ziyo). The member of RSC, Nine Walking Trees, among othetrs. From the beginning releated to Spaart Recording Studio. In free time he takes photos.