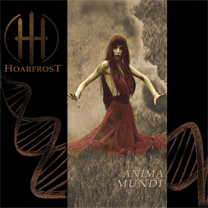 Hoarfrost – Anima Mundi
1. Ages of Gaia
2. Perception Primordial
3. Mimesis
4. Refracted In Illusion
5. In Hopeless Mazes
6. Medeaeternum
Label: Reverse Alignment – RA-27
Date:  17 August 2016
Format: CD
Anima Mundi – the world soul. Sometimes interpreted as the mythical Gaia or the mother of earth and all it's life and forms. The superorganism of the planet.
With their fourth album, Hoarfrost explores the philosophical view of mother earth as the caring ancient goddess and the possibility that she's actually are a Medea that will deceive and betray humanity, making us faithless and deprived of our will to survive. And in the end, facing total collapse.
On "Anima Mundi", Hoarfrost collaborates with Katarzyna Bromirska from PERCIVAL SCHUTTENBACH (cello), Valdi Rzeszut from RATATAM (guitar), Dawid Chrapla from SYNAPSIS and Tomasz Twardawa from GENETIC TRANSMISSION (noise structures) bringing us dark ambient industrialism.
REVIEWS:
Anima Mundi is an unique experience. Hoarfrost have taken their previous sounds and increased the intensity in every way. Anima Mundi is the first album from Hoarfrost in over five years. Hoarfrost released their first two albums, Puppets Of The Divine Coroner and Ground Zero, as well as a split with Inner Vision Laboratory through Zoharum. They brought a unique combination of dark ambient, industrial noise, and operatic vocals. Now they return with Anima Mundi, their first release on Reverse Alignment.
Anima Mundi has been a long time in the making. Hoarfrost hit a brick wall several years back, induced by the death of their dear friend Amelia, who suddenly passed on. Amelia had been responsible for the album art on most of the Hoarfrost releases. Hoarfrost took some time to mourn and rebound. With the help of some special guest collaborators, they brought the project back into focus. Now they have dedicated Anima Mundi to their friend Amelia.
Hoarfrost had previously been known for the unique combination of bleak apocalyptic soundscapes, which barely touched the realms of musicality, and the female vocals, which added a truly unique touch. Their full length debut, Ground Zero, was a wrenching experience, evoking the moods and sounds of a massive metropolitan disaster. On Puppets Of The Divine Coroner, Hoarfrost largely followed the framework of Ground Zero. Both albums attracted attention and praise from plenty of fans and reviewers across the world.
Anima Mundi is quite an unusual album. The mood is set in a masterful way. Building off all the sounds Hoarfrost previously used, but moving much further into uncharted territories. Anima Mundi presents a world which appears to be dying or dead. But the difference this time is that we are witnessing this through the lens of the anima mundi, the world spirit, the devastatingly beautiful yet vicious Mother Earth. Mother Earth shows us two vastly different faces. Stare into the northern sky, watching the Aurora Borealis, amaze in the beauty, but remember there are violent earthquakes which rip through California, tsunamis obliterate Japanese shorelines, the world is stronger than humanity, she gives and takes life with no shame or regret.
The talents of several guest musicians not only spice up this release, but they transform it into something totally different from the previous Hoarfrost outings. Anima Mundi is significantly more musical, in every way from the operatic female vocals to the somber cello arrangements. Hoarfrost recruited the talents of several guest musicians, including: Valdi Rzeszut from Ratatam, whose guitar parts are featured on tracks "Refracted In Illusion" and "In Hopeless Mazes", as well as Katarzyna Bromirska from Percival Schuttenbach, whose cello can be heard throughout the entire album. These cello parts give the album an even flow and hold the listener within the musical context easily, without going off into long periods of minimal soundscape. While the guitars can be considered part of the more chaotic aspects of the album.
Hoarfrost took a real gamble on this release, relying on the open-minded nature of the majority of fans who listen to these dark ambient/industrial genres. Anima Mundi brilliantly encapsulates the dichotomy between the peaceful and chaotic forces present on Earth. These concepts are personified through two strong females, Gaia and Medeae. Gaia, the goddess, the mother Earth, can be best represented in the beautiful cello arrangements, but also in the rumbling noises found throughout the album. Whereas we can hear Medeae's presence most explicitly through some of the more sinister sounding vocal sections. In fact, the vocals really give us the best understanding of the shifts in emotions presented on Anima Mundi. Sometimes the vocals are beautiful, well timed operatic sections, while on other tracks they become purposely disjointed, at times chaotic. On "Medeaeternum" the vocals become downright vicious, moving effortlessly between this operatic sound and violently passionate screams of rage.
Anima Mundi is sure to be a challenging release for many listeners, but that shouldn't stop anyone from giving it a listen. There is a little something here for all sorts of musical tastes: death industrial, power electronics, operatic vocals, dark ambient soundscapes, classical cellos. The experimental nature of this release, steeped in an obvious darkness is reminiscent of something we would hear on some Cold Meat Industry release. I would highly recommend this to listeners who love to hear musicians step outside the normality of so much modern music. There is little here that could be directly compared to anything else out there. Hoarfrost have presented their most unique work to date. While it won't be for every one, those who enjoy Anima Mundi are likely to fall in love with it.
Written by: Michael
Rating: 8/10
Halloween staat voor de deur, en moest je nog op zoek zijn naar de geschikte soundtrack voor je aanstaande Samhain (om ons in occulte sferen te begeven, want deze ademen Anima Mundi een en al uit) feestje op te luisteren, staak dan meteen het zoeken, dit is immers de plaat die je moet hebben!
Het beangstigende, vervormde koorgezang in het begin van opener 'Ages Of Gaia' maakt meteen klaar en duidelijk dat angstaanjagend uitgedoste zielen door de straten dwalen, die niet tevreden zijn met enkel maar een handjevol snoep. Doe alvast dat extra slot op de deur, het zal de komende 50 minuten geen overbodige luxe zijn.
Het Poolse dark ambient project Hoarfrost laat na 5 jaar nog eens van zich horen middels een langspeler, deze keer op het Zweedse Reverse Alignment, en niet meer zoals de eerste drie platen op het Poolse Zoharum label.
We zijn blij om te zien dat de Poolse experimentele zangeres Hekte Zaren terug van de partij is, ze maakt immers sinds de opnames van Hoarfrosts vorige plaat Puppets Of The Divine Corner (2011), mee deel uit van het project, we kunnen het alleen maar toejuichen want deze dame is er om gekend extreme occulte vocale experimenten te creëren, kortom de gedroomde aanvulling bij de dark ambient van Hoarfrost.
Op Anima Mundi werden nog meerdere gasten uitgenodigd om het dark ambient tapijt van Hoarfrost in te kleuren, zo ontwaren we Katarzyna Bromirska op cello, Valdi Rzeszut op gitaar en kruiden Dawid Chrapla en Tomasz Twardawa (Genetic Transmission) het geheel met allerhande geluidjes.
Dat je met een titel als Anima Mundi ook spiritueel niet op je honger blijft zal menigeen al wel duidelijk zijn. Animus Mundi is immers de Latijnse benaming van de 'Wereldziel', oftewel de etherische geest waarvan volgens sommige antieke filosofen alles in de wereld doordrongen zou zijn. De 'animus mundi' zou alle dingen van welke materie ook bezielen, net zoals verondersteld werd dat de ziel een mens 'animeerde'. Deze Animus Mundi werd soms geïnterpreteerd als de mythische Gaia, de oermoeder, die ontstond uit de Chaos aan het begin der dingen.
Anima Mundi, de plaat, wil de filosofische opvatting onderzoeken die moeder aarde ziet als de verzorgende oude godin en eveneens de mogelijkheid dat ze eigenlijk zoals een Medea de mensheid zal bedriegen en verraden, wat ons ongelovig maakt en ons beroofd van onze wil om te overleven. Om ten slotte, geconfronteerd te worden met de totale ineenstorting.
Kan het nog apocalyptischer? Inderdaad, wij dachten ook van niet! De muzikale omlijsting die dark ambient combineert met neoklassieke klanken, creepy geluidjes, snaarinstrumenten en de vocale capriolen vormen dan ook een gedroomde apocalyptische potpourri, die een doordringende angstbries doorheen de woonkamer blaast.
Let wel, dit is een zware maaltijd, geen vlug tussendoortje, neem dus je tijd om deze plaat helemaal tot je (onder)bewustzijn door te laten dringen.
Gaandeweg zal dit heidens ritueel immers meer en meer geheimen prijsgeven, een ontdekkingsreis die zeker en vast de moeite waard is om te ondernemen.
De muzikale omlijsting heeft ons nog niet volledig over de streep getrokken, maar eensgezind zijn we over de meerwaarde van zangeres (al is deze term te beperkend voor deze artieste) Hekte Zaren. Haar vocale bijdragen doen ons spontaan denken aan onze favoriete heks, Diamanda Galás. Hoewel deze laatste niet te evenaren valt, komen de jammerklachten van Zaren toch soms akelig dicht in de buurt, zoals op 'Perception Primordial', of de grandioze afsluiter 'Medeaeternum', op dit laatste nummer komen alle ingrediënten samen in een orgastisch samenspel, dat een dik kwartier lang de poorten van de hel wagenwijd opentrekt.
Upon hearing Anima Mundi, several things might come to mind depending on the level of attunement with it is possessed at that moment. If one is thinking of the technical side of craft of music making itself, the origin of the different artifacts and tropes within the structures of organised sound will come to mind. On the emotional and psychological sides of the experience, this is the kind of music that must needs be voluntarily sought, not rationally but in an opening of the senses to it. Such a description may sounds sketchy and vague. What it entails is a mental working through the two basic dimensions of music: the horizontal and vertical, the momentary whole and the narrative development. It will need several trials, especially for those unaccustomed to letting go, but Anima Mundi will reveal a very interesting path in and out.
The title that Hoarfroast has chosen for this album is indicative of the nature of a music that asks for the correct method of experience in a connection with what some would call our primitive self. But there is no such thing as a primitive side, but the metaphor itself is useful and has a certain meaning. In truth, where we come from, that is, our past, and what we are now, simply constitute our whole at this present moment. Hence, in answering the call of the soul of the world and the hidden part of ourselves, which answers to the motions of the spheres more than we would like to admit, we are engaging in some retrograde motion or ritual but rather understanding a different aspect of our nature through our relation to Nature.
A prominent element in Hoarfrost's Anima Mundi is the female voice that haunts the mind and chills the ear, sending a cold finger sliding down the back of our spines. The noise structures produced through programming sometimes remind of a more varied and elaborate take on the compelling work of Endvra in Black Eden. Hoarfrost demonstrates a patience shared by that dark ambient, but it also provides an incredible amount of variety masterfully fused into their overarching concept. It therefore boasts of the strengths of both worlds, the deep ambient rooted in repetition and the classical-like experimentation of sounds. Hoarfroast's greatest triumph in Anima Mundi is its successful channeling of all these into one great purpose that extends far beyond the conceptual and that is shown in the direction of the manifold aspects of its music. From her soft whispers to its terrifying and painful screech in 'Mimesis', from the cello that smells of tree wounds and tastes of bark to the chiming which alludes to the music of the spheres and the flow of what some call living energy. These are not, like in most other places, to be taken as enticing distractions, but as meaningful and completely functional parts of a flowing and evolving idea.
Anima Mundi appears non-threatening yet hides danger, however unbeknownst it may be to its own creator. To that, only it can and will answer to inner questioning. Such a work will be "enjoyed" by some, entirely ungraspable to the majority, perceived by those who happen to be in tune with its particular intention through unconscious realisation, understood by a few, but travelled through in full awareness by only a handful. This writing has not the intention of deterring the listener, but of signaling what have now become unconventional ways to those who would brave lonely mountains and old forests both within and without. To venture down the path guided by Hoarfrost is to walk under the moon.
Procédons à une présentation de rigueur pour ceux qui ne seraient pas familiers avec Hoarfrost. Anima Mundi est le quatrième album Hoarfrost, qui a travaillé à deux reprises avec Inner Vision Laboratory, et cela à l'occasion d'un album collaboratif et d'un split. Cette nouvelle production fait office de première sortie sur le label suédois Reverse Alignment – les autres albums ont été publiés chez les polonais de Zoharum. Pour cet album Rafal K s'est entouré d'Hekte Zaren, une vocaliste ayant participé à des projets ou à des groupes comme Adaestuo, Hexenwolf, Medico Peste, Gnaw Their Tongues, etc. Mais, aussi de Tomasz Twardawa (Genetic Transmission) et de Dawid Chrapla qui assurent la charpente noise/industrial d'Anima Mundi, d'une violoncelliste en la personne de Katarzyna Bromirska (Percival Schuttenbach), et enfin on note la présence d'un guitariste.
Cet album, Anima Mundi – terme qui signifie « âme du monde » et qui fait intervenir une idée de double nature – est littéralement pris en étau entre deux figures mythologiques, celle de Gaïa sur la bien nommée Ages of Gaia, la piste d'ouverture, et celle de Médée sur Medeaeternum, la dernière. La première de ces figures, Gaïa, qui est évoquée dans la Théogonie d'Hésiode, est une déesse primordiale, la déesse mère, elle est perçue comme pouvant être la source créatrice d'une harmonieuse beauté, tout comme celle du chaos originel, alors que celle de Médée, qui est une magicienne, est un personnage important du cycle des Argonautes ; selon les versions de son mythe elle y est, ou non, coupable d'un infanticide, par exemple dans la tragédie d'Euripide elle commet cet acte. Il était nécessaire de brosser ce tableau, car les entités évoquées ici sont intimement liées aux matériaux sonores, au point où ces derniers semblent leurs donner une incarnation, une vie, dans une « scénographie » poétique qui invite à de multiples interprétations.
Anima Mundi donne plutôt la sensation d'être à un long morceau qui serait découpé en plusieurs séquences ; Il n'est pourtant pas non plus l'enchaînement de pistes identiques, non, elles sont caractérisées par des éléments qui les rendent uniques, comme par exemple sur In Hopeless Mazes qui laisse entendre une guitare électrique (cette composition n'est malheureusement pas la meilleure de l'album…).
Rafal K avec cet album a, donc, fait le choix de proposer un dark ambient en perpétuel mouvement, et animé de forces antagonistes. Ce qui est en concordance avec le titre de l'album. On retrouve cette idée dans la mise scène d'un violoncelle organique et chaleureux , et de structures post-industrielles, qui entretiennent des rapports complexes fait de répulsions et d'attirances. L'ombre d'une possible symbiose plane tout autant sur ces compostions que celle d'un définitif divorce…
Cette situation inextricable et inévitable trouve son expression la plus totale dans la performance à la dimension souvent opératique de Hekte Zaren, quelque part entre Alzbeth (The Moon Lay Hidden Beneath A Cloud) et Diamanda Galas : ses chuchotements, ses hurlements, ses vocalises déformées, ses pleurs, sont comme les milles visages d'une contradiction qui semble nous condamner à un sort tragique.
Par ses références mythologiques, l'intense tension qui s'y agite, Anima Mundi se révèle être pensé dans les moindres détails. Sa construction invite clairement à chercher des clefs permettant d'émettre des interprétations. À quelle figure Hekte Zaren prête-t-elle sa voix : Gaïa en souffrance, Médée, ou incarne-t-elle l'Anima mundi ? Ces cordes qui dansent sur les architectures bruitistes est-ce Gaïa ? Peut-on rapprocher les éléments post-industriels -composés en partie de signaux émanant de machineries futuristes – de Médée ? D'autre part, cet assemblage renvoie à un ensemble, à un réseau, de questions philosophiques qui se tissent dans la relation entre science et nature, cette dernière et l'art, etc.
Ambitieux, complexe, Anima Mundi prend un visage unique dans la discographie d'Hoarfrost, grâce à sa façon inimitable, hors des sentiers battus, de retranscrire la sensation de vertige, le frisson qui nous parcourt, face à la convergence technoscientifique (convergence des nanotechnologies, biotechnologies, technologies de l'information et des sciences cognitives) qui ouvre des portes insoupçonnées d'évolution. Il serait bien regrettable de passer à côté…
I wouldn't say I am a diehard Hoarfrost fan, but I definitely appreciate Rafal's idea of music. He started his activity almost ten years ago with an industrial dark ambient sound, strongly influenced by the place where he lives (as well as I, since we both come from Upper Silesia, the most industrialized region of Poland), not that far from other "neighbouring" projects such as Moan or Dead Factory. With time and with each new release he began to experiment with other ambient subgenres, moving the centre of gravity from abandoned mines, steel mills and factories to something less obvious, but more spiritual. I daresay that "Anima Mundi" is his best work up to this moment.
It has been released by the interesting Swedish label Reverse Alignment on CD in 300 copies. And if you're expecting music of rusty machines decaying in a post-industrial environment, you can easily forget about it. Only echoes of these remain, present in the occasional metal clangs scattered all over the wasteland. Some of these, and the other noises were provided by the guys from Genetic Transmission and Synapsis. Rafal also invited a guitarist and a cellist to enrich the soulless and synthetic structure with live instruments. And what's more important, once again he works with Hekte Zaren, a female experimental vocalist related to the black metal scene. All this might give you a general idea of "Anima Mundi". It's strongly influenced by neoclassical forms and – luckily – because of its lack of pompousness and bombastic tendencies we can consider it as dark ambient chamber music. It also has quite an illustrative aspect, that would rather fit a theatrical play than a movie. Hekte Zaren screams, cries, sings in an opera manner, whispers tenderly. The cello parts are building drama and tension, and the ambient soundscapes give a vast and deep background. It's very good that, sometimes balancing on the verge, Rafal never crosses the boundary on the other side of which there's but a straight road to a dull and pretentious, gothic-influenced sound.
I won't lie, it isn't my most beloved form of ambient as I prefer a more abstract approach. Also I'm not a big fan of such an extensive use of voice in this kind of music – I wouldn't be adverse to a few tracks being one hundred percent instrumental, so that you have to invent the whole story by yourself in your head. Or just perceive the music in a state of half consciousness, using it as an aural drug. But this is the musician's idea and nothing is left to chance here. The concept is deliberate and a few moments are really very cool. Like the last two tracks, "In Hopeless Mazes" with a crazy guitar work and the seventeen-minute-long "Medeaeternum" driven by industrial/noise soundscapes and insane vocal parts by Hekte Zaren.
It's been about five years since the previous Hoarfrost full-length. It's obvious that Rafal didn't idle away during that time. "Anima Mundi" is thorough, complex and surely worth a couple of listens. Or more if you like female voice in ambient.
Hoarfrost ‎– Anima Mundi
Reverse Alignment, RA-27
CD/Digital 2016